Chris Roberts screamed, "Security Solved!" in a recent LinkedIn update. What in the world was he talking about? He professed that security is not hard nor complicated. Not only does he consider it inexpensive and undemanding to do the right thing, it's easy to get the simple stuff sorted.
I (Mark Miller) called Chris, had a short discussion, and came away with the idea for a new podcast/webinar. On July 29th at 1:00 PM ET, we're going to have a discussion about assets… yes, cyber assets. By starting with the basics, we're going to help you cover your assets, talking about ways to discover:
Assets, what do you have?

Assets, where are they?




Who's got access to them?




What DO they do, what is their purpose?




What's on them?




Which ones do you need to care about?
From there, you'll want to know if Chris' hairy ass is on them, and whatcha going to do about it if he is. If you can figure out these two, you've basically nailed threat management, security controls, Disaster Recovery / Business Continuity. This stuff is NOT hard. We make it hard; we wrap it up in too many layers, too many smart words, and too many complexities.
Join us live, for an irreverent, no holds barred discussion with Chris on how to Cover Your Assets. You'll walk away with an earful on the importance of tracking and monitoring your cyber assets, understanding the value of knowing what your assets do and how they interact with each other, and what you can do to Cover Your Assets for Simplified Security.
Who: Chris Roberts and Mark Miller
When: July 29, 2021, 1:00 PM
What: Podcast/Webinar - Cover Your Assets for Simplified Security
Speakers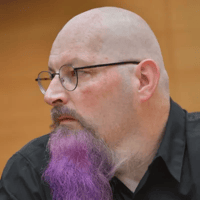 Chris Roberts
Large hairy hacker, often found lurking in the basement with a bottle of Ardbeg... Hacker, InfoSec, Safety, CyberStuff Researcher, Advisor, @Hacknotcrime henchman, and various other names on the technical side of the world
Currently the Chief Security Strategist for Cynet, and have worked in plenty of other realms such as vCISO, Executive, consultant, leadership, among other things undertaken over the years.
I've been fortunate to be elbow deep in technology for more years than I care to remember, and these days am involved in both tactical and strategic discussions with clients across the spectrum of industries talking maturity, risk, and how to effect change.
Oh, and I just got called a Scottish Security Warlock....I'm kinda digging it.

Mark Miller
Mark Miller speaks and writes extensively on DevOps and Security, hosting panel discussions on tools and processes within the DevOps Software Supply Chain.
He actively participates in the DevOps/DevSecOps community by building DevSecOps tracks at security conferences such as RSA Conference, InfoSec Europe, CD Summit, AppSec USA and AppSec EU.He is the Senior Storyteller and Senior Director of Community and Content at JupiterOne.
As well, Mark is Executive Producer of the DevSecOps Podcast Series (400K+ listens), and the Executive Editor of the LinkedIn DevOps Group (110K+ members).